Publicis Machine and Nurun build unique Online solutions
Publicis Machine is a global network agency that specialises in building leading brands. In a world of accelerated change, brands are under increased pressure to compete due to new technologies, empowered customers, shifting attitudes and fresh contenders in the market place. Publicis Machine helps create leading strategies and powerful ideas that allow their clients' brands to become unique, indispensable and stand out in the crowd.

As part of the Publicis Africa Group network, Publicis Machine is intricately linked to Nurun, a specialist technology business with more than 17 offices around the world, and represented locally through an expert suite of web, SEO, media, content and data competencies.
Nurun's development team specialises in building online product ranges for clients. These vary from 'in-house' product builds for Incentiv and Answered to client project builds that range from long-term projects such as Sanlam's Reality to shorter builds such as campaigns for Nando's, ADT and PSG.
Publicis Machine and Nurun both make use of RSAWEB's Enterprise Cloud (Virtual Data Centre) to effectively store and manage data, build online sites and develop new technologies.
Upgrading from outdated infrastructure to the cloud

Since Nurun was launched in South Africa, they have grown considerably, tapping into resources within different agencies. They are also looking to expand their technology division during the next few years. When Johan Steyn joined Publicis Machine and Nurun as CTO he realised that the data management solution that was being implemented up until then was not meeting the standard they required as a company.
At the time Publicis Machine was operating with stand-alone servers that were kept on site. Johan explains: 'Gone are the days of running a single server rack mounted in mom's basement. We needed to become more professional in how we provided services to clients. This meant ensuring that at every level of our technology stack we were able to cover the necessary basics, from scalability and high availability to disaster recovery and security.'  It was then that Publicis Machine decided to move to RSAWEB's Enterprise Cloud (VDC).
With Enterprise Cloud (VDC) we take care of the infrastructure so that you can take care of your business. You will no longer need to worry about managing your own data centre or investing in infrastructure as we provide the solution for all your hardware and maintenance needs, while giving you scalable resources on demand for any workload.
Meeting client requirements with scalable solutions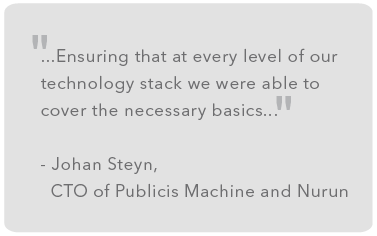 Publicis Machine and Nurun are always working with multiple brands, which means that they are constantly managing multiple websites for their clients at any given time. Johan says that these client site requirements also vary in scale as 'some will only have 100 page views a month, while others can reach over 500 000 page views a month, depending on the nature of the project'.
In order to meet all these requirements, Publicis Machine and Nurun have a number of content contributors who are constantly uploading content onto sites according to their clients' various requirements, and developers who are creating specialised platforms for clients' brands. The benefit of Enterprise Cloud (VDC) is that it enables Publicis Machine to easily scale their requirements and implement new technologies as and when they are required.

Johan says that the Enterprise Cloud (VDC) network configuration and VM set-up interface features have been incredibly useful to his team. Another major benefit Johan notes is that, because all the data is online, it can be accessed from anywhere, whenever it is needed. One of the biggest successes Johan and his team have had since implementing Enterprise Cloud (VDC) is that they have been able to produce a T3 architecture solution for one of their in-house clients.
Enterprise Cloud (VDC) provides Publicis Machine with a logically isolated, private environment that is secure, infinitely scalable and incredibly fast. It allows Publicis Machine and Nurun to design bespoke solutions and constantly innovate to help their clients remain at the cutting edge of their industries.
Read more of our Enterprise Cloud case studies:
Moneyweb's growth fueled by Enterprise Cloud
Enterprise Cloud Case Study – GreatSoft