Established almost 5 years ago by Kees Snijders, Hein Koen, Gerrie Swart and Kristien Wolmarans, Flickswitch is a uniquely African solution to the challenge of machine-to-machine SIM card management.
"Machine to Machine (M2M) is the new buzz word for a concept that has been around for ages – simple telemetry solutions."
You may not realised it but the small chips or cards you find in your mobile phones are useful for more than just making phone calls; a fact I learn as I find myself sitting opposite Hein Koen at the bustling Bean There Coffee shop on a busy Monday morning in December.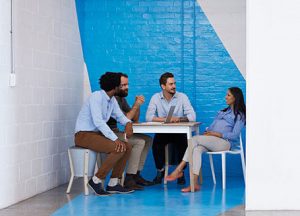 The deliciously tempting aroma of freshly ground coffee wafts up to me, as I sit chatting to Hein, while he explains that SIM cards can in fact be utilised for a variety of creative business and day-to-day solutions. For example, wildlife managers use SIM cards for monitoring game such as vultures and rhinos by placing the chip onto their feet or horns. Security companies use SIM cards to monitor whether their guards are making the rounds they are meant to, by placing a SIM in a handheld tagging device.  Both interesting and simple solutions to everyday situations. However; it is when multiple of these SIM cards are run on a standard business contract that the costs can become exorbitant and the usage difficult to manage.
Hein explains, that while this all sounds like an incredibly simple and obvious solution, we face a challenge in Africa in the need for account management and the prevention of racking up bills due to theft or abuse. You may want to use SIM cards in large numbers of devices,  but you also want to manage the bill at the end month, especially when you are dealing with hundreds or thousands of SIMs – this is where Flickswitch comes in.
Flickswitch has developed an easy to use dashboard that allows their customers to manage their SIM card expenses and cap their monthly bills. Hein explains that SIM card management is not a new concept; "Machine to Machine (M2M) is the new buzz word for a concept that has been around for ages – simple telemetry solutions." Hein says "At Flickswitch we make M2M possible on prepaid, which is vital for African markets". By making use of a prepaid solution, such as the one most of us are accustomed to, one can now easily log onto Flickswitch's dashboard and top up, disable and monitor large numbers of  SIM cards.
We place customer service and relationships at our core, and it is clear to see that RSAWEB does the same, which is why we appreciate the relationship we have with them."
But Flickswitch haven't just stopped in South Africa, and are working on big plans for 2015 to launch into other locations in Africa, starting initially in Kenya and Nigeria. Hein explains that this move has taken a long time – almost 3 years of flying back and forth and spending time in both countries. "It is important to lay the groundwork and build the relationships. You cannot just assume that what works in South Africa will work in Kenya or anywhere else for that matter. You need to spend time speaking to people, learning what they need and want and then try to create a solution that fits their needs", he says.
It is easy to see that it is this hands on, customer focused and customer driven philosophy that what is at the core of Flickswitch's success. In answer to the question of what is the biggest challenge they have faced so far, Hein notes that at the moment they are finding the need to slow down or press pause on a few very exciting prospects in order to concentrate on the projects on the go now, and to give them the attention and energy they need. "Hopefully the other things will still be around when we are ready – but for now we need to concentrate on fewer projects and make sure we get them right first."

Putting in the time has been something Flickswitch has done from the very beginning. Hein remembers when they landed their first customer, who immediately bought into the concept and ordered a thousand SIM cards – "We practically had to manually manage each and every one of them as we didn't have all the systems and processes in place… But by doing that we learnt what the customer wanted and were able to adjust and adapt to make the product work for them". Hein continues; "…while not every customer is easy to please, it is often the challenging ones that we have the best relationships with – they appreciate our work but they know they can expect hands on service."
Flickswitch make use of RSAWEB's CityFibre internet solution and their cloud hosting to ensure that their customers are always able to access their dashboards. Hein notes that he was so impressed with the service and level of detail he received from RSAWEB and the City of Cape Town while the CityFibre cables were being installed; "there was someone here every day to make sure that everything was running smoothly… We place customer service and relationships at our core, and it is clear to see that RSAWEB does the same, which is why we appreciate the relationship we have with them."