What does the future hold? When thinking about the future of the digital economy or digital marketplace, brands and investors need to consider consumers' growing and changing online purchasing trends, as this is where the greatest business opportunities will lie.
Wanting to know more about this, I found a recent article by the Harvard Business Review that highlighted research into how the digital economy has been evolving since 2008 and where it is likely to develop in the future. 
Digital Evolution Index
The article, published in February, is based on research conducted by the Fletcher School at Tufts University who created a 'Digital Evolution Index' to see how Internet technology is transforming marketplaces and identify how a selection of 50 countries compare against each other in terms of readiness for the digital economy.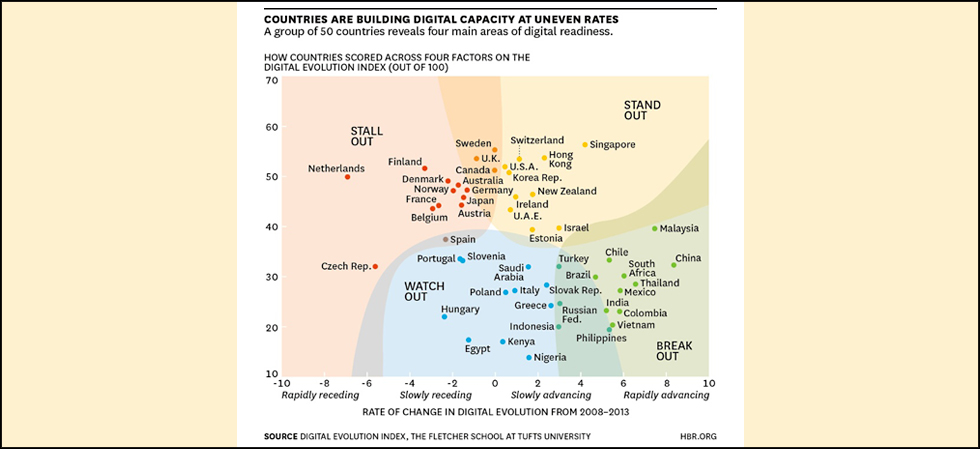 South Africa identified as a 'Breakout Country'
What does this mean for South Africa you ask? The good news is that the research identified South Africa as a 'Breakout Country.' In other words, a country that has the potential to develop a strong digital economy.
'Breakout Countries' are considered to be improving their digital readiness quite rapidly. It is the next phase however, where growth is harder to achieve, as this means confronting challenges like improving supply infrastructure and nurturing domestic consumers. In order to better understand this, I had a look at the key finding from the report and gave some thought to what I believe are the key take-outs from these findings:
Other key findings from this research include:
'The next billion will be different.' The first 3 billion Internet users who now take part in the digital economy started by surfing the web and using email, before becoming online consumers. The next billion however will be mostly mobile customers who are used to interacting and transacting in a mobile ecosystem on their phones. As Internet enabled mobile devices spread, this will expand peoples' access to content as well as opportunities to buy and sell goods and services via mobile devices.
Key take-out: If you are currently building an ecommerce website, or any website for that matter, you need to be making sure that it functions as smoothly on mobile as it does on web.
In spite of significant limitations in supply conditions (ahem, postal strikes…) 'Break Out' markets still registered the highest gains in demand during 2008 to 2013. To realise the full potential of increasing consumer demand within these markets they will need to eliminate supply bottlenecks.

Key take-out: When building a new business or launching a new product into the market, make sure you have considered how this business/product will scale and take a moment to ensure you have considered the infrastructure and resources you will need to have in place to deal with rapid increases in demand.
Collaboration needs to take place between private sector and policymakers to help fast track improvements in logistics and transportation infrastructure, deeper financial inclusion, and better conditions of Internet access. These present some of the biggest opportunities in 'Watch Out' and 'Break Out' markets.
Key take-out: One cannot do business in isolation – consider all the various logistics and take the time to speak to various people both in the private sector and in government about working together to improve supply networks and ultimately the country as a whole.
Innovation is key. In India for example online businesses largely still operate on a Cash On Delivery (COD) model as '90% of all monetary transactions in India are in cash'. Despite this $3 billion of investment was given to India's e-commerce sector in the summer of 2014 and even Amazon has adapted its approach to offer COD as a service in India. This shows that even where 'cash is still king' digital marketplaces are innovating at a remarkable pace.

Key take-out: Be innovative and do not limit yourself. Listen to the market and adapt to your customers' requirements.
How the challenges and opportunities of the digital future are met in South Africa and globally are still to be seen. But it is certain that these innovations, and how businesses and governments adapt to meet the growing needs of digital consumers, will have a major impact on the way global commerce and digital marketplaces develop in the future.
What do you think of the digital economy?
Where do you see the potential for growth in South Africa?
Share your thoughts with us on our Facebook page  https://www.facebook.com/RSAWEB or via Twitter #RSAWEB #DigitalEconomy
To read the full Harvard Business Review article follow the link: http://ow.ly/Kww5o
To find out more about the Digital Evolution Index follow the link: http://fletcher.tufts.edu/eBiz/Index
Here is another article we wrote about business digital migration