Comair Limited is a South African aviation and travel company offering scheduled and non-scheduled airline services within South Africa, Sub-Saharan Africa and the Indian Ocean Islands. The company is managed and owned by South Africans through its listing on the JSE and has been operating successfully in this country since 1946.

In 1996, the company underwent major changes when it became a franchise partner with British Airways. From this point, Comair became known as British Airways Comair, and took on the colours and livery of British Airways International. In 2001, Comair launched South Africa's first 'no-frills' carrier in the form of kulula.com – kulula means 'easily' in Zulu.
kulula is more than just an airline brand and aims to make the complete travel experience easy and affordable for all South Africans. Today the services on their website include not only flights but car hire, hotel bookings, travel packages and more. Currently kulula averages about 35 000 unique visitors to their website per day and has 10 content uploaders constantly updating their website and making sure the site is always up-to-date.
Comair is the only known airline to have achieved operating profits for 69 years and has a safety record which is internationally recognised.

Evolving business demands
Over the years as demand for their online services grew, Comair recognised that Information Technology had to become an enabler for better business. As Riaan Olivier, Comair's IT Operations Manager explains; "We knew we had to become innovative with our approach to the online services we deliver in order to remain competitive. Therefore, the need arose to build an environment that can keep up with the pace of our fast-moving and ever-changing business environment."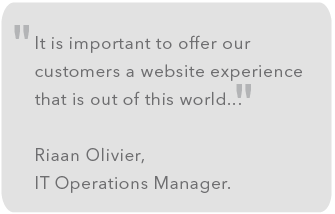 In searching for a solution they identified that the core requirements were to create an environment for the disaster recovery (DR) site and a user acceptance testing (UAT) environment that could scale quickly and perform well. Riaan stresses that; "it's important to offer our customers a website experience that is out of this world while at the same time providing a cost saving to Comair's stakeholders."
Industry-leading technology
After searching for a solution Comair chose to adopt the Virtual Data Centre services offered by Enterprise Cloud (Virtual Data Centre). Enterprise Cloud is built on the VMware virtualisation stack, an industry leading technology trusted by service providers and companies worldwide and includes the VMware vCloud Director, vSphere, vCenter and vCNS. Enterprise Cloud makes use of the Virtual Data Centre in VMware's vCloud Director stack to isolate private networks using VxLANs. Added to this is the fact that Enterprise Cloud makes use of SolidFire storage which is designed with a highly fault-tolerant modular architecture to protect against any kind of hardware failure, with guaranteed sustained IOPS (input/output per second) ensuring that performance and continuity is maintained and guaranteed.

Valued added resources
With RSAWEB's Enterprise Cloud Comair now has all the benefits of owning a Virtual Data Centre (VDC) without any of the maintenance or capital costs making their business' online infrastructure secure, blazing fast and infinitely scalable. Most importantly for Comair, Enterprise Cloud has automated disaster recovery, advanced networking and they have access to RSAWEB's team of Cloud experts for assistance.  "The useful features and the disaster recovery options, the expert team RSAWEB employs and the advanced networking solutions RSAWEB can produce, due to the expert team, has incredible value to us at Comair," says Riaan.
Superior performance in the Cloud
The transition to Enterprise Cloud was seamless as the deployment is incredibly quick and easy. Riaan notes that, "deploying the solution took a few minutes, after the required governance and purchasing documents were signed we received our access details and were able to start deploying services within minutes."
The adoption of Enterprise Cloud also presented the IT department with a unique opportunity to get their various teams to communicate across functions and not just within their own silos. Enterprise Cloud provides visibility of resources and allows full control with the ability to increase and decrease performance requirements on demand. It also creates a logically isolated private environment and provides secure, modular architecture using VMware's vCNS and VApps as part of the platform to protect against any kind of hardware failure. This has been immensely beneficial to Comair's IT team as Riaan remarks; "our IT Operations Team no longer worries about hardware upgrades or VM performance, now they can focus on delivering virtual infrastructure for new projects."

Comair has also experienced the benefit of software developers no longer having to wait for IT Operations to provide the necessary hardware and infrastructure to build a certification environment. Now the software development teams can complete their deployments in Enterprise Cloud (VDC). This has led to Comair re-designing their UAT and certification environments into Enterprise Cloud for increased efficiency.
With Enterprise Cloud (VDC) , websites and web applications are all guaranteed to have their performance boosted by the superior functionality of the system which leads to notable increases in productivity and efficiency. When commenting on the improvement in online services Riaan says that, "Previously we were unable to provide successful application performance and penetration testing through our certification environment, but with Enterprise Cloud (VDC)  we provide 100% of the performance of our production environment. We also now have a geographically isolated DR environment also with 100% of the performance capacity of our production environment."
The IT department at Comair now has 10 people using Enterprise Cloud (VDC) daily and Riaan comments that; "of course, the plan is to service all internal Comair applications in Enterprise Cloud in the future."