Natural disasters such as floods, fire, earthquakes, tsunamis, hurricanes and cyclones (among others) can have devastating consequences and often lead to the loss of many lives. As weather patterns become more extreme and unpredictable due to global warming and these natural disasters increase in frequency, there is a growing need for people to be aware of possible weather threats and for the appropriate aid to be delivered to those affected by disasters as soon as possible when they happen.
Gone are the days of disasters being felt only in remote locations and assisted by disaster relief organisations that took days or weeks to co-ordinate rescue and relief efforts. With the rise of social media and the aid of Internet of Things (IoT) keeping people and technology constantly connected, when a disaster strikes nowadays it is communicated around the world simultaneously, allowing those affected to receive help, and those in other areas to receive updates and provide assistance almost immediately. During a disaster the Internet and social media become vital tools for those affected to communicate and share information and updates of their situation and co-ordinate the appropriate relief.

Digital volunteers and the power of the social media community
Now when disasters occur you don't have to be airlifted into the centre of a disaster in order to be of assistance to those in need of help. Instead people can be mobilised as 'digital volunteers' who assist by helping to sort and sift through the masses of digital information available about affected areas so that those on the ground know who needs what supplies or assistance and where they are located.  After the devastating earthquake in Nepal in 2015, for example, using the Internet and social media became key to assessing the situation and delivering the necessary aid to those in need.  Social media tools allow aid agencies and volunteers to be even quicker with their rescue and response efforts during a crisis.
Social media also allows volunteers to self-mobilise and co-ordinate to assist others in their community or nearby. This means that assistance doesn't have to rely solely on the government or aid organisations and the willingness of people to help can have an immediate and positive effect.

Even in South Africa we have seen the positive effects of this as people across the country co-ordinated to assist those areas affected by the drought this year (2016) with donations of money, food and water to those in need. In one instance what started as one simple Facebook request soon became a co-ordinated effort to donate water which involved over 18 500 people.
Technology and disaster relief
The ability to collect and analyse the data received about disasters is becoming ever more critical to aid and relief organisations in enabling them to respond to disasters more effectively. New technologies and innovations are being developed to set-up warning systems and better assess potential threats as well as to allocate aid more effectively when a disaster occurs.
These are just some of the technologies that are being used to aid in disaster relief:
Drones and Unmanned Aerial Vehicles (UAV's): UAV's or civil drones are able to provide a 'bird's-eye view' of a disaster zone. When combined with ALIRT (Airborne Ladar Imaging Research Testbed) technology the drones can capture data to produce high-resolution 3D renderings of terrain and infrastructure.  Giving this information to emergency teams can help them assess the damage, identify population changes and see road travel conditions and possible helicopter landing zones. They can also establish the best places to set up equipment, aid tents and field hospitals. It helps aid agencies to effectively dispatch vital resources, such as tents, blankets, water, food and medical supplies. Drones are also used to help locate survivors and are being tested with thermal cameras to help find people trapped under rubble. Drones can also be used to drop aid packages in areas that relief organisations are unable to access directly.

Google Person Finder:  This is an open source web application that was built by volunteer engineers in response to the Haiti earthquake in 2010. It provides a registry and message board for survivors, family, and friends who are affected by a natural disaster to post and search for information about each other's status and whereabouts.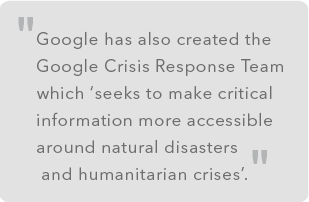 During a disaster Google Person Finder is typically set up as a multilingual 'Crisis Response page' on Google's site, which also contains various other disaster tools such as satellite photographs, shelter locations, road conditions, and power outage information. Google has also created the Google Crisis Response Team which 'seeks to make critical information more accessible around natural disasters and humanitarian crises'. Using Google resources and tools such as Google Maps, Google Earth, and Google Person Finder the Crisis Response Team organizes emergency alerts and news updates relating to a crisis and publishes the information on dedicated landing pages. It also collaborates with relief agencies to provide tools to help crisis responders and affected people communicate and stay informed.
Micromappers:   Micromappers was launched in 2013 and used in Typhoon Hayian in 2013 and the Nepal earthquake in 2015, and several other disasters. The application creates a map from social media relief updates and sends it to aid agencies that get real-time updates from affected areas. This helps aid organizations to effectively plan relief efforts before going into disaster zones. During the 2015 Nepal earthquake, Micromappers processed over 60,000 images and tweets. As mentioned above, Micromappers is co-ordinated by thousands of digital volunteers worldwide, who they call 'Digital Jedi's.'
Facebook safety check: This is a service implemented by Facebook that allows people to check-in to Facebook when natural or man-made disasters occur in their immediate location. When people check-in, friends and family members can then quickly determine whether people in the affected geographical area are safe. Facebook activated this feature during the Nepal earthquakes in April and May of 2015 and again during the terrorist attacks in Paris in November 2015.
Future technology to avert disasters
As the frequency of incidences of disasters rise across the globe, new technologies are being developed that will be used to combat future disasters and the increasing effects of global warming.

These technologies include:
Fire tracking: Technology is being developed using advanced computer modelling and simulations to predict wildfires. The computer models are updated every 12 hours with the latest satellite data and observations. The simulations then allow scientists to issue forecasts and potential wild fire warnings to areas that may be affected.
Flood tracking: Flood predictions are important to governments in helping them know when to issue warnings to people in areas that may be affected by floods. Flood prediction technology uses radar, streamflow computer simulations and highly detailed computer models of weather simulations to track weather patterns and predict possible flood zones.
Earthquake prediction: Early warning systems for earthquakes are constantly being developed and improved upon by the U.S. Geological Survey. The systems use high-grade ground motion sensors to monitor and predict earthquakes. In California, USA, they have already developed 'Shakealert' which is a popular earthquake warning system.