Our number one priority is making sure that your online experience is a truly seamless and straightforward one. This customer-centric outlook is the driving force that led us to create the RSAWEB Mobile App. 
If you are struggling to login to our app, here is the process to follow to get yourself up and running! 
1. Download the RSAWEB Mobile App
Open the app 
When logging into the RSAWEB Mobile App, make sure you are using the email address or mobile number connected with your account (We all make these mistakes). 

 
There are two ways to log in: 
a. Using an OTP 
Once you have entered your email address or mobile number into their appropriate fields, click on 'Send My OTP'.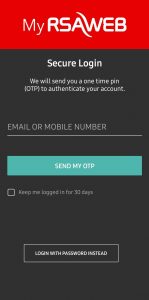 An OTP (One time pin) will be sent to your email address. Enter this OTP into the app and click 'Verify'. 

 
If an email was not received, or if the OTP has expired, click 'Resend OTP Email' to receive a new OTP.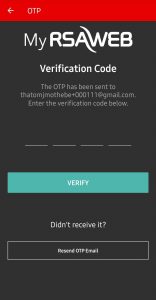 b. 
Using your username and password 
If you do not know your password, click on 'forgot password'.

 

Enter your email address and click 'enter'. You will receive an email with a code. 

 

Enter this code as well as your new password. Click 'reset'.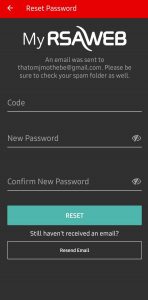 If, when trying to login using either one of these methods, you see a screen with the message "You are not a confirmed user yet" – follow these steps: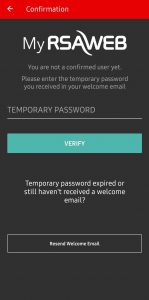 When you became an RSAWEB client, you would have received a welcome email with a temporary password.

 
If you cannot find this email, or if this password has expired, click on 'resend welcome email'.

 

Once you have your temporary password on hand, enter it into the app and click on 'verify'. 

 
The app will now be asked to enter a new password. Make sure that this password is at least 8 characters long, contains a number, contains a special character (such as !, @, #, %), and has letters in uppercase and lowercase. Once done, click 'Set password'.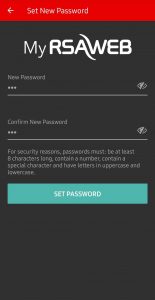 You should now be able to log into the RSAWEB Mobile App and use its awesome features!  More features are coming soon to the app so watch this space.  If you are still struggling to log in or have a different issue, please call us on 087 470 0000 or email us at [email protected] and we will try to assist you further.