Companies and individuals are changing the way they work. Gone are the days of sitting behind a desk from nine to five, employees are now working flexi-hours to increase productivity. They are working on the go, between meetings, on the road, from home or at their nearest coffee shop.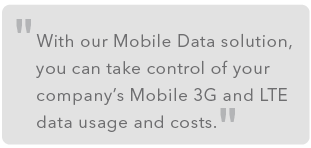 As a result, the demand for mobile data has increased to ensure constant connectivity no matter the time or place. This used to mean hours of manually capturing and managing employee SIM cards and mobile data contracts. Not to mention the high costs, surprise bills and wasted unused data at the end of the month.
Here at RSAWEB we have changed the way we view Mobile Data in order to provide a product and service to companies who are changing the way they work.
With our Mobile Data solution, you can take control of your company's Mobile 3G and LTE data usage and costs. Our custom-built online control panel makes managing your mobile data across multiple SIM cards easy.

Getting started
To get started simply choose the data bundle size that you need, order the number of SIM cards you require, create your user profiles using the control panel and allocate data to the Accounts.
Managing your data
When you log on to the Mobile Data management tool you will be able to view the data usage for the entire data pool as well as manage individual accounts and SIM cards.
You can link as many SIM cards as you choose to one account, meaning multiple devices (phones, Mi-Fi devices or tablets) can share a single data cap. Once the cap limit is reached all SIM cards linked to this account will automatically be disconnected. To reactivate them simply increase the data cap for that account via the control panel.

You will easily be able to see which accounts are using the most data from the data pool and if necessary you can top them up before they reach their cap.
This results in happy connected employees with far less wasted, unused data and no more surprise bills at the end of the month, just one more way RSAWEB is connecting tomorrow.
Do you need a smart solution to managing multiple SIM cards and data usage for your company? Contact us on 087 470 0000 or [email protected] to discuss a tailor-made package for you.
More articles on Mobile Data
Caxton's solution to mobile data management