We recently launched our new IoT products and LoRaWAN™ solution at this year's AfricaTech Festival. At this future-forward event we showed Africa's booming tech industry how our technology stack creates endless possibilities and opportunities with IoT and LoRaWAN, for business. 
IoT solutions offer access to data streams from previously inaccessible data points, providing vital insight and control. IoT device data is visualised in our management and analytics dashboards; enabling rapid response to a variety of outputs, configurable alerts, and reports.  
There is an almost unlimited possibility of use cases that this technology can be used for and the benefits are high value. Our IoT and LoRaWAN solutions significantly increase the ability to manage risk, improve controls with instrumentation, and optimise operations for increased profitability. 
RSAWEB's Internet of Things Products and Services

At RSAWEB, we'll help you harness the power of IoT with our secure management and data aggregation platform, where data is visualised in real-time. Dashboard views can be set according to configured parameters, and data processed for custom visualisation. 
Analytics Dashboard:

Our analytics dashboard allows you to visualise your data with various widgets and create alerts, actions and reports based on the inbound data received from devices – giving you full control. 
Device Management Dashboard: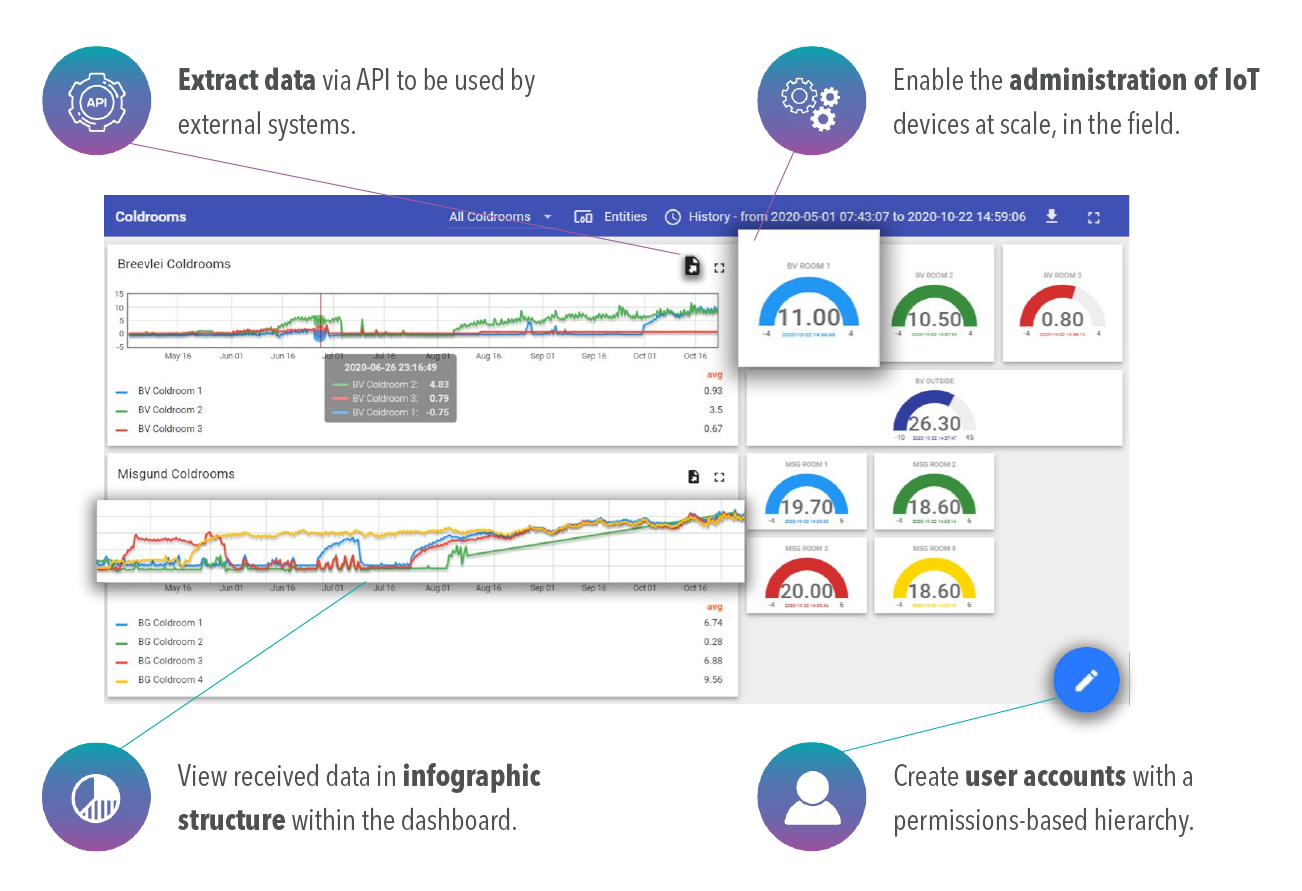 Our device management dashboard enables the administration of active IoT devices at scale. View all your devices and received data in a user-friendly display; toggle device management, configuration and permissions-based user access in one single sign-on environment. 
LoRaWAN

We have embarked on a national LoRaWAN rollout program and have deployed for coverage in major metropole and adjacent outlying areas. This expansion program is an ongoing initiative with the intention of providing readily accessible national coverage.  
As a well-known national Internet Service Provider, our network footprint supports our LoRaWAN expansion program and enables the transmission of IoT data from Gateway to network and platform, via multiple breakout points over various last mile connectivity mediums – namely our Mobile Data network, Fibre and Microwave network.   
The benefits and capabilities associated with our new IoT solutions with LoRaWAN™ access include: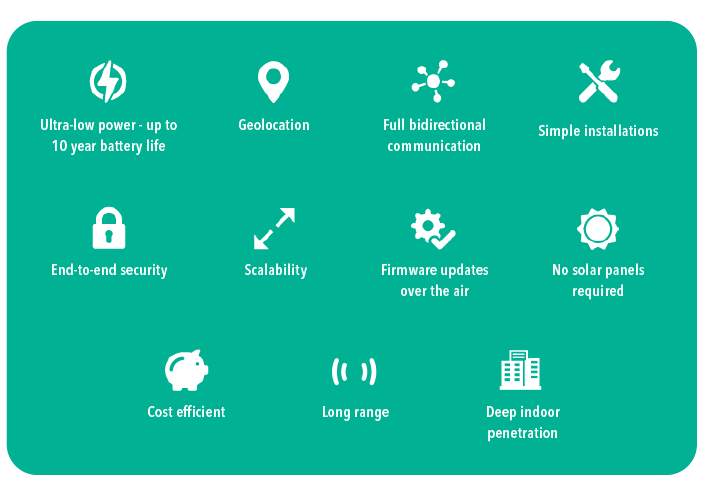 At RSAWEB, we have partnered with global brands in order to provide reliable LoRaWAN™ and ICASA certified gateways for both indoor and outdoor use. LoRa™ Gateways receive data transmissions from IoT LoRa™ enabled sensors, which are connected to our network and IoT platform. We also provide expert consultation on network architecture and connectivity options available per site, environment and use case. 

We provide an extensive range of LoRa™ and ICASA certified IoT devices with carefully selected feature sets. Feature-based device selection enables the building of bespoke solutions traversing industry sectors and creating opportunities to solve pervasive problems in general – as well as niche environments. Our IoT devices are also all safety rated, tested, and ICASA-certified. 
The internet of things is possibly one of this century's greatest technology innovations. IoT customers are welcome to onboard existing IoT devices onto our very own RSAWEB LoRaWAN network*.  
*terms and conditions apply 
 Device Features 
A Diverse Range of Use Cases:
Agriculture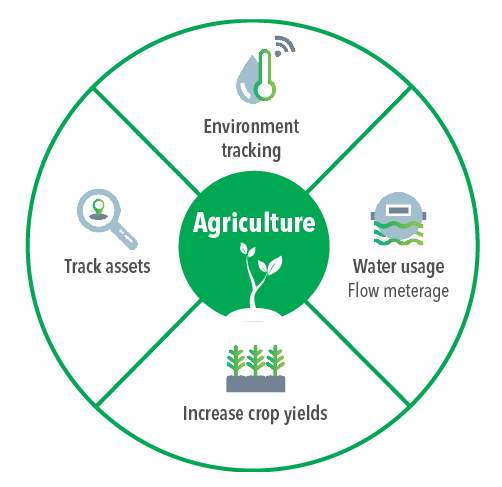 Optimise or increase production and yield through environmental control, resource management, achieving compliance standards and improving health and safety.  
Examples: Greenhouses, tunnels, shaded crops, pack houses, cold rooms, fertiliser and chemical sheds, workshops, asset and machinery tracking, pallet / bin movement and monitoring, livestock management, water consumption (usage / leakage), fuel tank gauging, electricity consumption. 
Logistics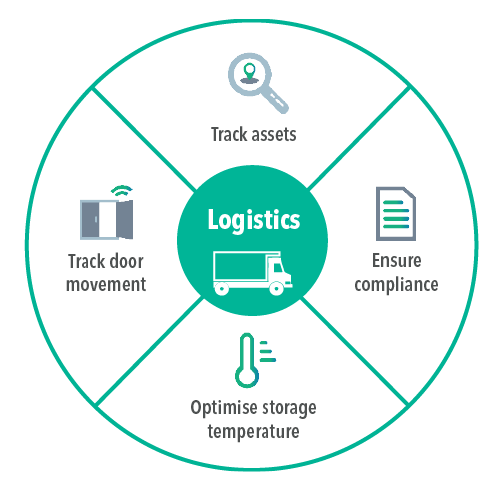 Manage and track assets from source to destination, ensure environmental control, maintain compliance and Service Level Agreements.  
Examples: Pallet and cargo tracking, trailer access alerts, geo tracking and fencing, cold freight environmental control.  
Retail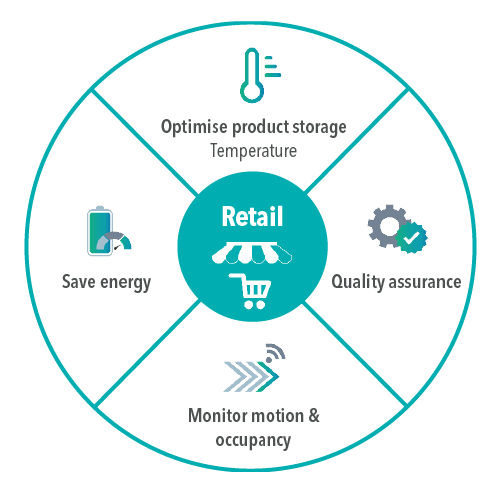 Our IoT solution can help businesses monitor motion and store occupancy, which is a vital metric in terms of having line-of-site over your premises with COVID restrictions still in play. 
Cold Storage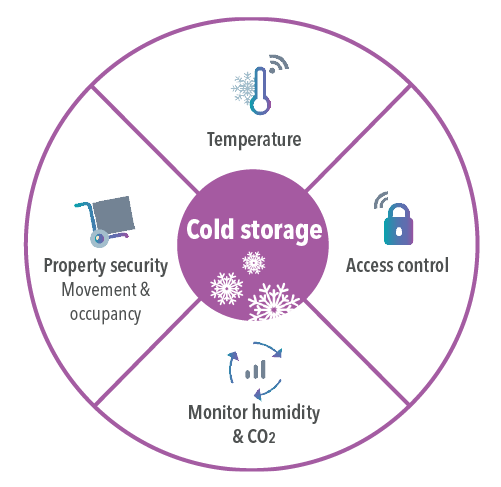 For businesses and industries relying on cold storage units, our RSAWEB IoT technology can provide property and goods security by monitoring movement and occupancy, as well as ensure product longevity by accurately monitoring temperature, humidity and CO2 levels. 
Examples: Industrial refrigeration control, transit cold freight, access control and alerts, electrical supply and consumption. 
We're IoT Solutions Architects
A 5-step process starting with consultation is exactly how our technology and business experts use decades of applied experience to help identify and dismantle complex problems and find solutions leveraging technology.  
The applied capabilities of our IoT product and technology stack, coupled with our comprehensive ICT product portfolio, helps us build solutions which solve these unique problems in your operating environment.  
Solutions are built on reliable, field-tested technology. "Build for scale, resilience and high-performance environments'' is the intention at the core of our solution architecture process.  
Management dashboards and logical data visualisations bring the power of the IoT solution into the control of you – the customer. To manage real-time data with functional alerts, monitoring and reporting provides the control and insights that were previously inaccessible. 
Invest in our LoRaWAN-enabled IoT solutions and put the future in your business with RSAWEB. If you would like to set up an interview with our team of IoT experts, or have any questions regarding our new end-to-end IoT and LoRaWAn solutions, contact us on: 
Tel: 087 470 0000 
Email: [email protected]