Over the last two years we have seen major growth in our Mobile Data product, helping our customers get fast mobile Internet connectivity across South Africa while simultaneously helping them to cut down on their monthly expenses.

With RSAWEB's Mobile Data management product we enable you to take control of your company's mobile 3G and LTE data connectivity and costs, reducing massively high bills for wasted data bundles and the number of frustrated employees who have run out of data or been capped.
Constantly improving our products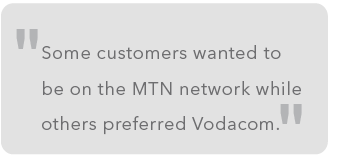 At RSAWEB we constantly endeavor to provide our customers with what they need and want. After gathering feedback from our Mobile Data clients we found that there was a definite demand for more than one network provider.
Further research then lead us to the fact that there was a clear split between Vodacom and MTN as the most popular network choices – some customers wanted to be on the MTN network while others preferred Vodacom. Considering we already support the MTN network, this realization made the path clear to us and we knew we needed to add Vodacom to our network options.
We give you choice
In the very near future you will be able to simply select whether you would prefer to use Vodacom or MTN as your Mobile Data network provider from within your Mobile Data online control panel.
If you can't decide on which provider you prefer, or would like to test them both out, no problem – you can simply choose to run both providers at the same time by selecting how much data you would like on each network, and then start provisioning the SIM cards to your users.
When it comes to giving your users a data allowance each month, you also won't have to worry about assigning them Vodacom and MTN data specifically. We've made it as simple as possible for you, allowing users to have a single cap that any SIM cards (regardless of network) will connect to. This saves you the hassle of managing two data bundles for each of your users.
Expanding the network coverage
Whether you prefer to use MTN or Vodacom, you can now be sure of a fast and high-quality connection from just about anywhere in South Africa, with an average of 4-20 Mbps upload/download depending on the area you are in.

Both of these network providers have exceptional coverage across South Africa, but we like to give our customers the choice of which one they like best. If you're interested to see which network has the highest coverage in your area, you can check out each of the provider's coverage maps here:
The option to add two providers to the Mobile Data control panel is available to both new and existing customers. If you would like any further information about this product or the addition of Vodacom as a provider please give our sales team a call on 087 470 0000 or email [email protected].
Don't forget that we also offer a month-to-month Mobile Broadband product if you are looking for a single mobile Internet connection for your personal use or for a small business.