I recently got back from VMworld in Barcelona. This large scale annual tech conference hosted by VMware (a subsidiary of Dell Technologies), draws over 10 000 IT professionals.
VMware specialize in hypervisor and virtualization software that is a key component of an organization's IT infrastructure and is increasingly being used by cloud providers.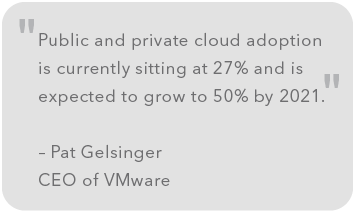 Pat Gelsinger, CEO of VMware, stated in his keynote presentation that public and private cloud adoption is currently sitting at 27% and is expected to grow to 50% by 2021. This cloud adoption is significant considering that in 2006 the term 'cloud' was only being used for the first time and a small company named salesforce.com had captured 2% of the cloud market as they moved CRM workloads off premises.
Revealed at the conference; VMware are finding that as more companies are leveraging cloud technologies, so virtualisation technologies are becoming one of the key enablers of cloud adoption, a trend that is forcing them to constantly redevelop their business model to support this move.
I attended numerous talks, service provider focus groups and product meetings there and found that there were three key cloud trends that emerged throughout the week, namely: hyper-convergence, Internet of Things (IoT) and Cross Cloud Services.
Hyper-convergence 
In traditional IT systems, networking, servers and storage are procured and configured separately. Resulting in multiple technologies, vendors and a high-level of complexity across the infrastructure and networking layers.

Businesses that want to move workloads off premises need to start simplifying their IT stack in order to get themselves 'cloud ready'. Software and hardware vendors have responded to this by offering hyper-converged solutions. A hyper-converged architecture is a software centric infrastructure system that tightly integrates compute, storage, networking and virtualisation resources into a single control panel or hardware stack.
RSAWEB have already embraced this technology and our cloud customers are effectively able to control their storage and compute needs as well as their preferred security and networking configuration using our Virtual Data Centre (VDC) control panel. Today, if our customers need more resources they can provision more resources. Simple.
IoT
The Internet of Things (IoT) or now more commonly know as the Internet of Everything is the new technology buzz word. Pat Gelsinger, in one of his keynotes, talked of the device market (mobile, laptop, tablet) maturing with over eight billion Internet connected devices now in the market. We're typically seeing a replacement trend where new versions of the same devices are being released as the top name brands compete for market share.
IoT changes this and new devices are rapidly being connected to the Internet every day. Think smart TVs, wearables and airplanes. But have you thought about irrigation systems, drones, traffic management applications, smart cities and weather systems? By 2020 there is expected to be 50 billion IoT devices connected to the Internet, which will represent a market share of over $255 billion.

Businesses need to digitally transform to embrace this new technology. Next time you jump into a lift or onto an escalator, think about the Internet connected monitors and sensors tracking all kinds of data and keeping systems running. IoT will quickly become hard to scale and manage, and businesses need to consider how these new devices will be connected to their networks. Companies like Microsoft and VMware are responding to this by extending their cloud technology to the edges of company networks and implementing device management solutions.
At RSAWEB we are already seeing a massive uptake in IoT, particularly with our Mobile Data products. Companies are using our platforms to manage data being sent by irrigation systems, parking management systems and other interesting use cases. We expect that our cloud platforms will soon be used to manage all this new data being produced by companies and their intelligent machines.

Cross Cloud Services 
VMware executives, in their discussions around cloud adoption throughout the VMworld conference, reiterated how many applications typically reside in a business and the numbers are astounding.
Take a minute to think about the department or roles you are in and how many work-based system you are using. Google docs, Dropbox, email, messenger and voice? And we haven't event mentioned the core CRM and other customer databases. If you start drilling down into an organisation and consider the different departments from facilities (access control), to HR (leave management), and finance (expense management) you will see in most cases there are over 100 applications in use in companies. Many of these systems are being rapidly migrated to the cloud, and it will come as no surprise that up to eight cloud environments could be in use at any time in an organisation.

Cloud is no longer just a public offering or a subscription based SaaS application. Instances of cloud applications can reside inside organisations or in private clouds in third party data centres. The technology that binds various cloud systems together is fast becoming known as Cross Cloud Services or Cross Cloud Architecture. The widespread use of API's is addressed by VMware, who traditionally would be seen as a competitor to Amazon Web Services, one of the mega cloud providers, by developing the ability to run workloads across multiple cloud providers including Amazon.
RSAWEB can also help enable cross cloud services with its Cloud Connect product. Some of our customers are running blended public and private cloud applications across RSAWEB's multiple data centres using Cloud Connect.
Book time with one of our experienced cloud engineers to discuss your multi-cloud system strategy and help us build a scalable cross cloud architecture for your organisation. Contact our Cloud sales team on 087 470 0000 or email [email protected]

As I wrapped up my week in Barcelona and the many discussions I had with my European counterparts, I reflected on how far we've come in South Africa. Barriers such as expensive bandwidth and low speed Internet connectivity have been removed allowing South African businesses to transform and truly embrace cloud services.
High speed fibre optic networks enable companies to seamlessly move their workloads into the cloud, or subscribe to cloud based applications that would traditionally have to be hosted on their sites. Apart from being a leader in providing Enterprise Cloud services (the first in SA), RSAWEB can also offer you the right solution to connect you or your customers to your cloud.
For more information on our Enterprise Cloud (VDC) or City Fibre products contact us today on 087 470 0000 or [email protected]