Fibre Internet is fast gaining popularity among South African businesses, thanks to its potential to offer light-speed connectivity and enhanced stability for larger numbers of users. There's a lot of water-cooler talk around this new technology, but how do you know if it's right for your company?

Here, we compare ADSL and Fibre Internet – two of the major players in the business connectivity space – to help you decide which would better suit your company's needs. For some businesses, ADSL is the clear front-runner, while for others, switching to Fibre is the way forward.
What's the difference between between ADSL and Fibre Internet?
To get a quick overview of the difference between ADSL and Fibre, read Fibre vs ADSL: Which is best for your businesses? This article also talks about the availability, reliability, speed and cost of both options – all critical factors to consider when making your choice.
Getting down to brass tacks: which businesses are best suited to ADSL, and which to Fibre?
Now that you're all clued up, this table can help you make your final decision.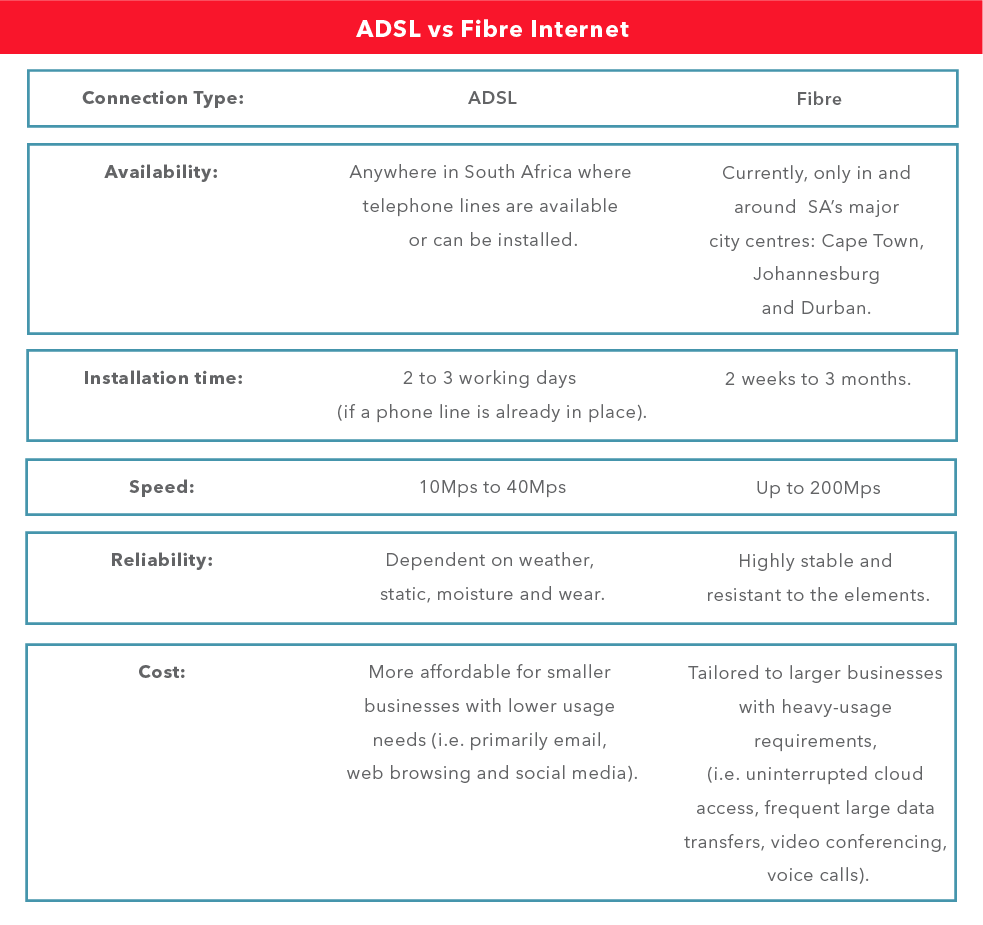 Choose Fibre Internet if:
You have a large workforce that is regularly connected to the Internet.
All work depends on having an Internet connection (i.e. cloud-based businesses).
Speed and reliability is more critical than cost.
Choose ADSL if:
You have a smaller workforce.
Your business isn't critically reliant on the Internet and/or isn't a heavy user.
Cost is a consideration.
Internet options available through RSAWEB
Now that you have an idea of the type of connection that would be best, you're ready to choose your package. Contact us on 087 470 000 or [email protected] to get set up quickly and effortlessly, or read up about our Business ADSL, Business Uncapped and City Fibre Internet options for businesses.