In case you hadn't heard, big changes are coming to WhatsApp. While the experience itself will remain the same, the nitty-gritty happening in the back–end is going to change substantially. Here's what's happening: If you don't accept their latest privacy terms on the platform you will lose access to the platform. This massive announcement shook the world and requires all users to accept their new terms of service which enables data-sharing to occur with their parent company Facebook.  
This means that you will be forced to share your personal data stored on your phone such as your personal numbers, location and in-app data with Facebook.  
This announcement has steered many users towards other messaging apps, and with Internet privacy being a term that is hot on a lot of peoples' lips at the moment – this mass migration doesn't surprise us. 
If you are looking to make a move, or are still deciding whether to leave WhatsApp for good, we compared WhatsApp and its three core competitors to help you make this rather tough decision.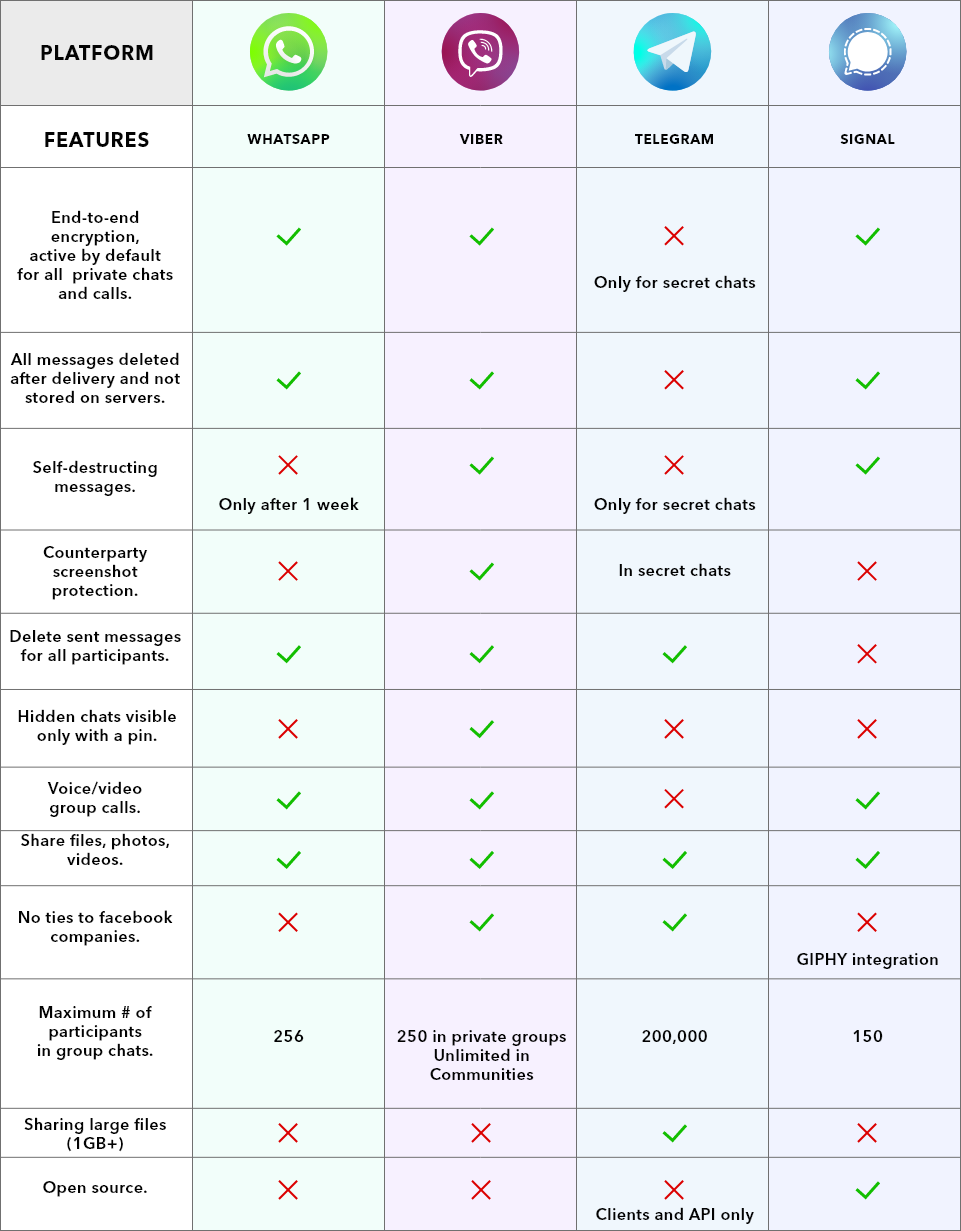 WhatsApp

While WhatsApp might be under fire at the moment, with 2 billion active users they are still and will most probably remain the most popular free instant messaging App in both the world and South Africa. This means that the large majority of your friends, family, and work contacts will most likely remain on WhatsApp – which is certainly something to consider if you are contemplating deleting the free messenger app.  
Here are some of the features that WhatsApp provides its users with: 
End-to-end encryption for all calls and messages (although for how much longer – we aren't too sure)

.

 

Messages aren't save

d

 and stored on server locations (Again, will this change when the new terms of service come 

into effect

?)

.

 

Group chats can be created a

n

d hold up to 256 participants.

 

A message deletion functionality for group chats that can erase chosen messages f

rom

 the archives of all 

participants

 in the group chat.

 

Voice and video group call functionality.

 

File, image and video sharing capabilities.

 
Signal

The next instant messaging app on this list is Signal. Following WhatsApp's announcement, Signal has seen a 42000% increase in downloads. This massive spike came following a Tweet made by Elon Musk – which garnered over 58000 retweets: 

On top of this, Signal has been endorsed by privacy advocate and whistleblower Edward Snow, as well as Twitter's CEO Jack Dorsey – which speaks volumes about how much the app can be trusted when it comes to data privacy.  
Their State-of-the-art end-to-end encryption keeps your conversations secure, and they openly announce on their website that, ''We can't read your messages or listen to your calls, and no one else can either''. There are also no ads or affiliate marketers using their product to trawl for more signups to random products or services you've never heard of before. Oh, and best of all – it's free.  
Here are some of the features that Signal provides its users with: 
End-to-end encryption of all calls and messages.

 

All messages are private and 'deleted' after being sent, which means they are not stored on a server environment.

 

Self-destructing messages – these are messages that delete themselves after a set amount of time once they've been sent.

 

Voice and video calls to groups of people.

 

Sharing of videos, photos and files.

 

GIPHY 

integration

.

 

Group chats can be created and hold up to 150 participants.

 

Signal i

s the only fully 

open-source app on this list.

 
Telegram

Telegram provides unlimited storage, as well as media compression capabilities which ultimately saves you data when sending and receiving files, images and videos. It also has multi-platform support, and can be downloaded on Android, iOS, Windows, Mac, Linux, and even through any browser. Telegram also utilises a 'Username' feature which enables its users to communicate with anyone on telegram, even if the two people don't have one another's contact numbers – which ultimately ensures the privacy of both users. 
Here are some of the features that Telegram provides its users with: 
Telegram is the only chat app on this list that enables users to share files larger than 1GB.

 

Group chats can be created and hold up to 200,000 participants – the largest on this list.

 

Telegram has no ties to Facebook or any Facebook affiliate companies – which is a huge plus!

 

File, image and video sharing capabilities.

 

In group chats, you can delete messages for all participants – with groups being able to hole up to 200,000 participants, this is no small feat.

 

Has counterparty screenshot protection in secret chats.

 

Has self-destructing message capabilities in secret chats.

 
Viber

Viber is the most comprehensive messenger app on this list and ticks a lot of boxes when it comes to features and capabilities. It's rather impressive. The one con associated with this messenger app is that it doesn't have nearly as many users as WhatsApp – with only 260 million monthly active users – and is mainly dominant in Eastern Europe, Russia, the Middle East, and some Asian markets. 
Here are some of the features that Viber provides its users with: 
End-to-end encryption of all messages and calls.

 

All messages are deleted after delivery and not stored 

i

n an easily-accessible server location.

 

Self-destructing message capabilities are available; 

meaning text

 message, video, sound files can be sent and set to delete themselves after being viewed.

 

Counterparty screenshot functionality included on the app.

 

Group chats can be created for private and public groups. Private groups can hold up to 250 participants, and public group chats can hold an 

unlimited

 

number

 of users.

 

Messages can be deleted in group chats for individual participants or all participants.

 

Private chats can be locked and concealed from prying eyes with a pin 

code

 function.

 

Voice and video calls can be made – and the quality of these 

calls

 rest firmly at the top of this list.

 

Viber has no ties to Facebook or any of Facebook's affiliate companies (like GIFY for example).

 
Our Final Thoughts
WhatsApp currently dominates the South African market – a study done by messengerpeople.com indicated that 49% of the population actively uses the messaging app daily. On top of this stat, in light of this whole WhatsApp debacle – Founder and co-owner of Plain Speak Technology Consultants, Alistair Fairweather, said that ''If you are not going to delete Facebook and Instagram apps off your phone then getting rid of WhatsApp is not really going to change anything about how much Facebook knows about you.''. 
With this said, we believe that if you use Facebook–owned apps like Instagram and the social networking app itself – there is no point changing from WhatsApp to one of the great alternatives mentioned in this list. If, however, you don't use any Facebook–owned apps and want your data to remain safe and private – we suggest trying out any one of these apps and seeing which one you like the most – and which one your friends are using – too.