2015 was a stellar year for Team RSAWEB as we continued to make podium appearances in almost all of the local, national and international races we participated in! The team spirit and morale has been high and we are incredibly proud of all of our athletes.

Stuart Marais is the reigning champion of Ironman 70.3 Durban, Renay Groustra came third at the Trans Hajar MTB stage race in Oman while the partnership of Nic Lamond and Craig Woods took second place on the podium of Imana Wild Ride.
This year has held some thrilling and fun moments. A few moments that stand out in particular are Nic "Raw Power" Lamond and Craig "The Navigator" Woods riding across the raging rivers of the Imana Wild Ride; Renay Groustra battling the stubborn, resilient herd of goats who were religiously trying to keep him off the trail in the Trans Hajar race in Oman; and, Stuart Marais triumphantly crossing the finish line to claim the Ironman 70.3 Durban victory.
These thrilling moments motivated us to compete and conquer the top mountain bike stage races and triathlons in South Africa.
Here are some highlights of other races we participate in:
These races have improved the teamwork and strength amongst the sponsored athletes and showed us just how far we can go as a team. We are now approaching our races and training with even more dedication than before and, while it is an ongoing process, it is a process that showcases a lifestyle inspired by all the positive aspects of cycling that one can think of, including:
Dedication, Grit, Determination, Sportsmanship, Teamwork, Humility, Sincerity
With an exciting year up ahead in 2016, it is in the team's best interest that these qualities continue to be upheld as we push forward into the unknown.

For the first time this year RSAWEB's Mobile Broadband allowed the team to publish live video feeds to our social media networks, making it possible for the supporters to follow the team and experience the races first hand.To Team RSAWEB's supporters who continue to support the team:
Thank you, keep the rubber side down and the cranks turning!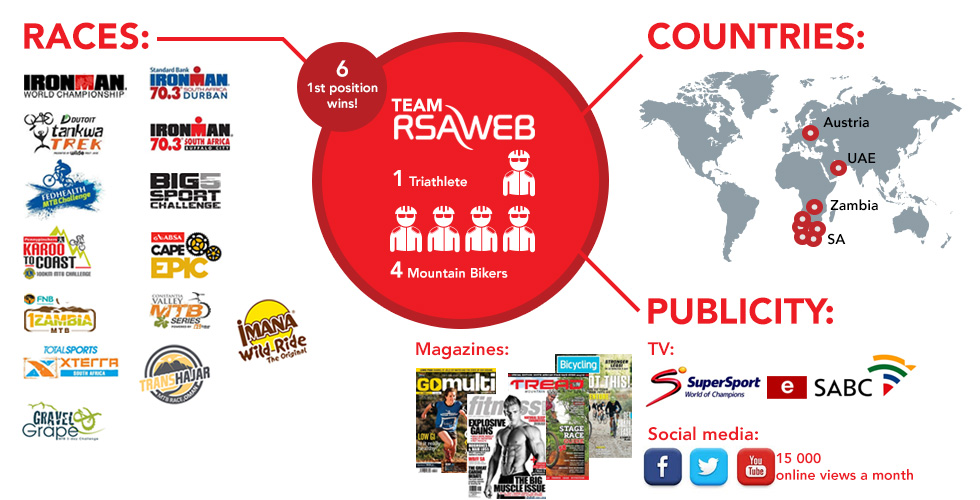 Here are links to some articles we have written about Team RSAWEB:
Stuart Marais – Winner of the 2015 Ironman 70.3 Durban
Nic Lamond races to the top at the Cape Epic
How to Race in the World's Biggest Mountain Bike Stage Races