Since the first microwave communications link across the English Channel between Dover and Calais in 1931, microwave and wireless backhauling has become an indispensable form of communication networks around the world.

Airwaves versus Lightwaves
Microwave backhaul links offer a much better cost-per-bit ratio than fibre, without compromising on availability or reliability. This cost can be reduced even further by using wireless Industrial, Scientific and Medical (ISM) bands, however these frequencies do not offer the same availability or reliability that microwave links do.
Wireless Point-to-Point (PtP) and Point-to-Multipoint (PtMP) links are not to be confused with the Wi-Fi we now find in most homes, shopping malls and offices. The purpose of a wireless or microwave link is to provide a secure layer to connect via a network between multiple locations, especially where traditional mediums are not feasible or practical.

Internet Service Providers (ISPs) will use wireless PtP and PtMP links to extend their backhaul network or to rapidly provide connectivity for new clients in remote or hard to reach areas. This functionality has also made PtP and PtMP popular as a short term connectivity solution while fibre networks are being trenched.
Wireless Wide Area Network's (WWAN) are also used to transmit voice, data and CCTV over fairly long distances without incurring any data costs. WWAN's are typically deployed on farms, in mines and on business or housing estates.
Low-cost access to information.
Community or privately owned and operated wireless networks are rapidly growing around South Africa. A good example of this is the Cape Town Wireless User Group (CTWUG). The low cost of equipment and short time to deployment of microwave and wireless links remains the driving factor for the use of this technology and more and more we are finding these types of networks being created by and for private people, companies and/or institutions to communicate and share information.
As with all technology, wireless and microwave links have their benefits and drawbacks. PtP and PtMP links require a clear line-of-site, also referred to as the Fresnel Zone. Additionally, securing or locking down the link is also critical to avoid any unauthorised connections.
Line-of-sight and Fresnel Zone is best illustrated in the diagram below: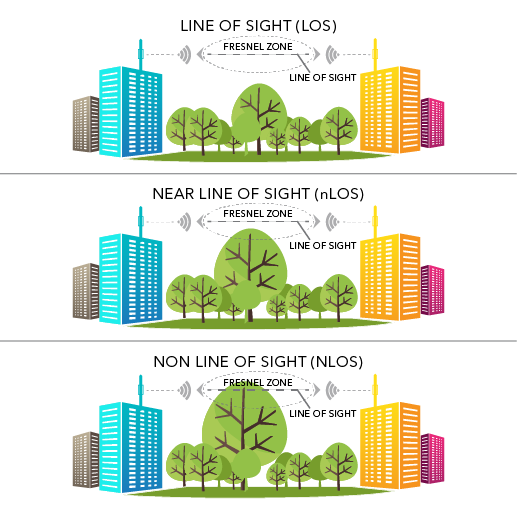 Benefits and drawbacks of Microwave and Wireless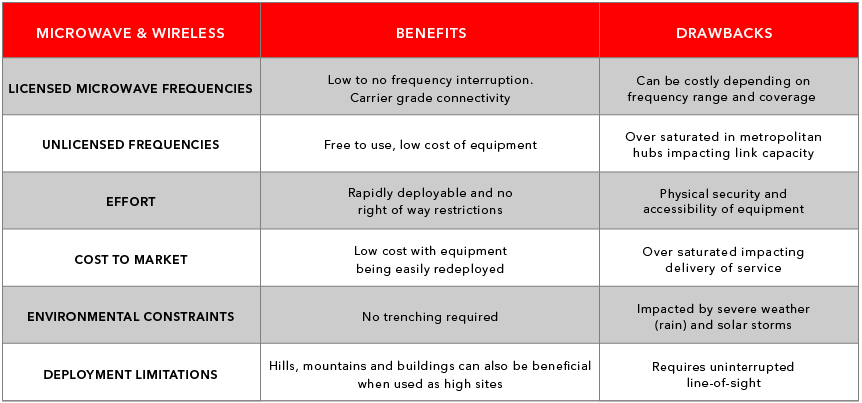 Glossary: