"You don't need to be great to start, you need to start to be great". 
It was with great pleasure that we welcomed Stuart Marais the 2014 Ironman 70.3 Italy Champion to RSAWEB's office space to share his story and recipe for success in training for Ironman 70.3. The event was attended by those hoping to compete in the Ironman 70.3 SA on the 25 Jan 2015 in East London.
This year Stuart (29) has won Ironman 70.3 Italy, came 2nd in Ironman 70.3 Malaysia and 4th in both Taiwan and South Africa.
We sponsor Stuart and invited him to share his story, as we admire his humbleness, dedication and persistence. We believe in honesty, integrity, and getting up in the morning not because we have to, but because our competitors are getting up too. As a business we're fiercely competitive, and having the edge requires determination and focus, so we identify on that front too.
"I get my inspiration from less privileged individuals that try so hard and aspire to do well in sport or life. If I think it's hard waking up in the freezing cold to train, trust me, someone else out there who's battling to simply breath, has it far worse. There is nothing stopping me to be great, and very little stopping most people out there."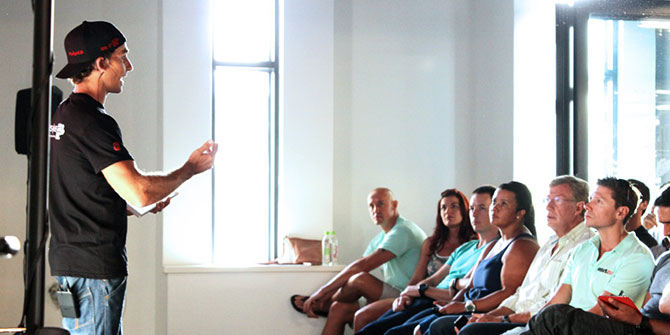 Stuart does what he does because he loves it. Racing success isn't achieved on the day, it's achieved months before when you find yourself out in the cold, training under extreme conditions while your friends and family are at home, having a warm supper. Putting in this great amount of effort before a race (or a business strategy for that matter), with passion and absolute dedication, will put you ahead when it counts.
"My self dedication as a professional athlete has helped me become a better father and friend. I'm constantly fired on positive emotions".
Finding a balance between your 9-5 career and staying physically active, is rewarding on so many levels. Yet it is a balance that is easily overlooked. Here @RSAWEB, we encourage everyone to keep their energy moving by going for group jogs on the promenade or swimming during lunch-breaks.
We encourage you to join us at our next event, meet some more legends and develop inspiration towards your personal life, love for sport and your day-to-day job.