For those who still prefer physical hardware, our dedicated server offering affords your business great speeds, much tighter security and the most flexibility possible. You lease the server from us and it sits in one of our cool, connected, highly controlled and safe data centres.
Full Remote Management
You have full remote management control of your servers via iKVM, it will feel like your server is right next to you.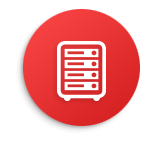 Top Quality Hardware
We use only the best hardware and have chosen Intel Xeon quad core and hex core CPUs for our dedicated offering.
Seriously Fast Network
All servers make use of our up to 1GB/s network, running on our national MPLS fibre backbone across South Africa.