Levi Strauss & Co (LS&Co), the world's leading authority in jeanswear, pride themselves on a pioneering approach to fashion, sustainability and business practices. As the demand for premium product offerings continues to rise, their top priority is to deliver exceptional customer service at Levi's® Stores. To meet this objective, they needed to adopt cloud-based hosting platforms, and given Internet latency and cost challenges in South Africa, it was clear that a local hosting solution was essential.

With this in mind, Levi Strauss South Africa (LSSA) approached our long-standing partner, InCloud Solutions, who provide strategic guidance, cloud-hosted products, infrastructure services and business systems for many well-known companies, to propose an ideal solution. The resulting solution utilises RSAWEB's Virtual Data Centre services to support 42 store terminals and 250 system users every day.
We spoke to InCloud Solutions Director, Garth Psaradelis, to give us more insight into their solution, its benefits, and some advice when looking at the bigger picture.
 "The most notable difference is that our technical support team can now focus on system maintenance and improvements without worrying about the hardware layer."
The solution
As Garth explains, "LSSA approached us to provide a solution based on a simple uptime SLA (Service Level Agreement) with a single vendor to host, manage and support the retail systems for Levi's® branded stores across South Africa. We looked at a number of scenarios and their accompanying investment implications, taking into account the geographical spread of stores and a need for a high availability hosting platform without the cost and complexities of a private data centre, and we proposed a private cloud-hosting environment as their ideal solution."
Garth goes further to say that; "Once our proposal was accepted, we partnered with RSAWEB to build a customised private cloud platform to meet the specific uptime SLA and performance requirements for LSSA. In addition, we designed a virtual data centre solution to satisfy LS&Co's rigorous global security requirements, and we maintain store infrastructure and provide end-user support for LSSA and their franchisees too."
 The benefits of being in the cloud
Since moving over to VDC, Levi Strauss South Africa has seen some enormous benefits, including:
The retail system's uptime is far higher than ever before.
Past challenges such as power, network or cooling outages to the data centre are no longer a concern.
Device hardware failures have little to no impact on system availability and adding additional resources is now seamless – often without the need for a reboot.
Garth says; "The most notable difference though, is that our technical support team can now focus on system maintenance and improvements without worrying about the hardware layer."
The bigger picture
We all know that cloud solutions have been around for some time, but it's only in the last five years that they have become more commonplace.  This is because the concept is now more familiar and its reliability and benefits are being proven day after day in businesses throughout South Africa.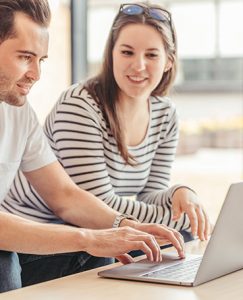 At InCloud Solutions, Garth explains that; "Moving customers onto cloud infrastructure is a key strategy for us, from selling public cloud solutions such as Office 365, to implementing and managing private cloud solutions in virtual data centres for our customers. Without our successful partnership and solid working relationship with RSAWEB, we would not be able to do what we do."
If you are considering a cloud solution for your business, it is important to keep in mind that even though the cloud can be as secure as a regular data centre, it is beneficial to your business to ensure that you work with a partner such as InCloud Solutions to implement adequate security barriers to protect the server environment in a similar way that they would protect an on-premise data centre.
It is also important to remember that when looking at the costs of cloud services versus an on-premise data centre, it is really important to consider the latent costs such as cooling, power, security, racking, rent, cost of capital, risk of hardware failure, and more that come with an on-premise solution. Garth sums it up by saying; "That's why RSAWEB's Virtual Data Centre services make complete economic sense when considering this bigger picture."
You may not be considering a cloud solution yet, but perhaps you should take Garth's advice and reap the benefits. To find out more about how cloud solutions can benefit your business contact InCloud Solutions or RSAWEB now.