At RSAWEB, we believe in improving the lives of South Africans by combining affordable internet connectivity with exceptional customer service. We have recently partnered with Sanlam Reality to offer you up to 20% off RSAWEB fibre to the home (FTTH).  
"Through our partnership with Sanlam Reality, we can offer their members reliable connectivity solutions at a discounted price," says Wendy-Anne Bailey, home consumer business unit head at RSAWEB. 

How can you get the RSAWEB fibre internet benefit?  
The RSAWEB FTTH benefit is available to Sanlam Reality Rewards members who want to sign up for first-time fibre internet with RSAWEB or switch from their current internet service provider (ISP) to RSAWEB.  
If you already have RSAWEB fibre but are not yet a Sanlam Reality Rewards member, sign up today to activate the benefit.  
Should you already have RSAWEB fibre and a Sanlam Reality Rewards membership, activate the benefit and save up to 20% on your monthly fibre bill. 
How does fibre internet improve your lifestyle?  
Over the past few years, the need for affordable, reliable internet connectivity at home has skyrocketed. RSAWEB fibre internet is the solution for all your home connectivity needs, enabling you to work and study remotely.  
Because fibre is uncapped and unthrottled with symmetrical download and upload speeds, you will also have an exceptional online experience with buffer-free video streaming and rapid online gameplay. Fibre internet is eco-friendly with minimal environmental impact and low maintenance requirements due to its durability.  

Why should you get RSAWEB fibre internet at home?  
"RSAWEB is more than an ISP. We're passionate about our customers and firmly believe in our philosophy of 'connecting tomorrow'. Through our connectivity solutions and technological products, we enable businesses and consumers to not only get connected but to be successful online," adds Bailey. 
As South Africa's best-rated ISP with a Google customer review rating of 4.7/5 stars, RSAWEB is built upon offering an exceptional online experience. By winning the coveted KFM 94.5 Best of the Cape award for Best ISP in 2021 and 2022, through the votes of our loyal customers, our exceptional customer service has been mirrored to us in the best way possible.  
RSAWEB is also a top performer on MyBroadband and the top-rated ISP on the Netflix Speed Index, showing that we know how much our customers value online entertainment.  
Activate your RSAWEB FTTH benefit today  
If you already have RSAWEB fibre and are a Sanlam Reality Rewards member, activate your benefit through the RSAWEB mobile app in 3 easy steps:
Step 1 
Log into the RSAWEB app and go to your 'active fibre service'.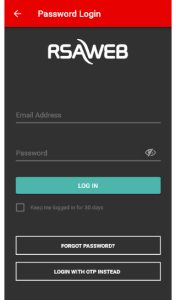 Step 2
Click on 'Manage Service'.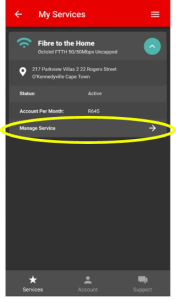 Step 3
Click on 'Claim your Sanlam Reality Rewards benefit'.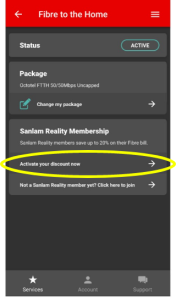 If you already have RSAWEB fibre, but not yet a Sanlam Reality Rewards membership, sign up here.