There has been much talk and hype around fibre Internet over the past year. So much so, that you should now know all about how fibre will give you an amazing uninterrupted Internet connection with no lag or buffering. With fibre you can stream your favourite movies, have seamless Skype conversations and enjoy weekends of 24/7 online gaming to your heart's content.
You have seen the pavements in your area being dug up and those fibre optic cables being laid, letting you know that super-fast fibre Internet is ready and waiting to be pulled into your home, but you are not quite sure how to go about getting it?
Don't worry! We have you covered. Below is a breakdown of just how easy it is to get fibre to your home with RSAWEB.

Contact RSAWEB to let us know that you are interested in getting fibre.
To do this you can call us on 087 470 0000 or fill in the form on our website and we'll call you.



One of our friendly sales consultants will be in touch.
The first thing we will do is confirm if your address falls within a 'live' area. This is an area where the fibre cables have been laid and are ready to be connected. You can check to see if your area is live on our website.

If your area is not live we will keep your details on file and notify you once the infrastructure has been laid. We are connecting more and more areas every day; yours could be one of them!


Choosing your package.
Once we have confirmed your area is live, we can set you up with your perfect fibre package taking into account your Internet requirements, usage and budget. Our sales consultant will discuss these with you to help you find the best package to suit your needs.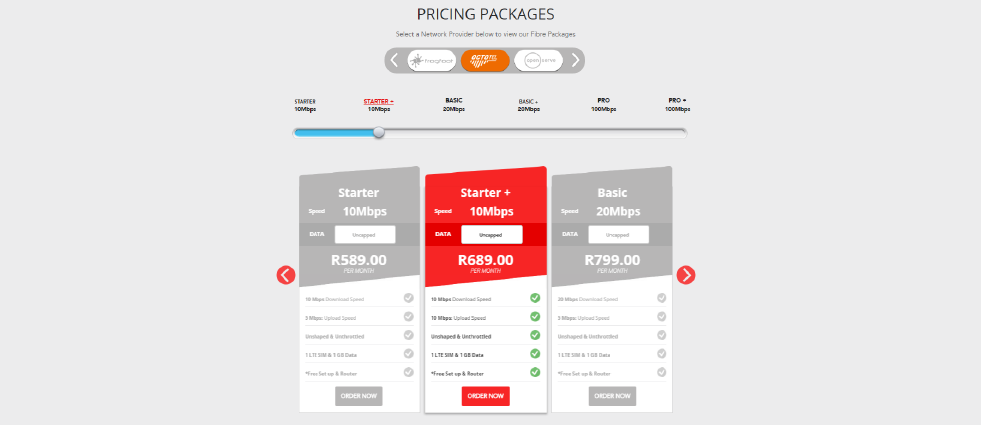 Confirmation and application.
Once you have decided on your package we will send you an email confirming all the details that were discussed, along with an application form and an outline of the necessary supporting documents we require.
Once we receive the completed application form and all the necessary supporting documents we will process your order.


RSAWEB will place the order with the fibre supplier. Fibre suppliers include Octotel, OpenServe, Frogfoot and Vumatel, among others.
Customers on the Vumatel network have the option of ordering their installation directly from Vumatel themselves.
Certain fibre suppliers are only available in specific areas. This may mean you will not be able to choose who your fibre supplier is depending on the area you live in.
RSAWEB do not do the physical installation into your home, this is handled by the fibre supplier stipulated in your application. The fibre supplier will contact you directly to arrange a suitable date and time to carry out the installation. The turnaround times vary depending on your chosen supplier.
Below is a guideline of the timelines from order placement to installation:
Octotel: approximately 10 working days
OpenServe: approximately 21 working days
Frogfoot: approximately 6-12 weeks
Vumatel: approximately one week after placing the order. We can activate Vumatel clients immediately once the installation is complete and the client receives their 'Object Number'. This is similar to an 'ID number' it tells us where you are on Vumatel's network.
Once your home fibre is installed you will be set up with a Wi-Fi router so that all the devices in your home can connect wirelessly to the Internet.
Your high-quality Wi-Fi router will be delivered by the installation technician or we will courier it directly to you. Your router is pre-configured so it is as easy as plug-and-play once the fibre line has been installed.


Enjoy you super-fast uninterrupted fibre Internet!


Some other frequently asked questions:
Do I need a Telkom landline?
No, a brand new fibre line will be pulled from the fibre provider's infrastructure outside the residence and into your home.
Do I have to take out a long-term contract?
No, our fibre services are offered on a month-to-month basis. If you wish to cancel or move the service within the first 12 months you will be liable to pay the setup fee and router cost. This is currently covered up front for you by RSAWEB as part of our sign-up promotion.
If you are interested in getting Fibre to the Home or would like any more information contact us on 087 470 0010 or email [email protected]