It is easy to feel overwhelmed when thinking about hosting in the Cloud. Making the right choice when considering cost, functionality, performance and reliability while trying to understand the difference between the Hyperscale providers like Amazon, Google and Microsoft versus the Enterprise providers like Rackspace and Softlayer, and the offerings available from smaller, more specialist providers can be daunting.
Clearly, your choice of provider must be driven by your specific requirements however, there are a number of questions to ask which will provide you with a broad understanding of a Cloud Service Provider's suitability.
Here are our top five questions to ask when searching for the ideal Cloud Service Provider:

Where are your Data Centres?
From a POPI (Protection of Personal Information) compliance perspective it may be a requirement for your data to be held in-country and this will rule out many Hyperscale or Enterprise providers as typically they do not have Data Centres in South Africa, or even in Africa as a whole.
In addition, even if you are not required to host locally for data sovereignty reasons, the round trip latency effect of hosting overseas can be detrimental enough to your service to make using international providers unworkable.

You will also want to know whether your provider owns their own Data Centres as it is important that they are in control of, and accountable for, the service. Owning their own Data Centre will ensure that they are able to answer key questions on details such as power continuity with Generators and UPSs or whether they are co-located in a third party's Data Centre (in which case, find out whose and direct these questions to them).
In any event you will want to know that the Data Centre you are hosted in is reliable and is setup redundantly to mitigate against known possible failures. Don't forget to also ask when last the provider's Data Centre had an outage, or how many and what type of outages have been experienced in the last few years.
Lastly, it is often important to know that your provider has multiple geo-redundant data centres, in particular if you are considering using them for backup and disaster recovery services.
What hardware are you using in your Infrastructure stack?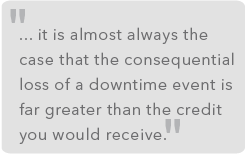 You may think (and your Cloud Service Provider may tell you) that the underlying infrastructure is not relevant should you be signed to a stringent availability Service Level Agreement (SLA) (see below), however, it is almost always the case that the consequential loss of a downtime event is far greater than the credit you would receive.
Knowing that your provider is using fully owned industry leading storage, server and network hardware that is configured in fault tolerant (n+1 minimum) clusters provides comfort in knowing that the risk of downtime or performance problems is minimised.
What software are you using in your Virtualisation stack?
As for hardware, so for software. Make sure that your provider is using industry leading virtualisation and service automation software on top of their infrastructure. It goes without saying that this software should also be deployed and maintained by certified engineers.

What SLAs do you provide?
Having said that SLAs on their own are no reassurance against a downtime event, stringent Service Availability SLAs are a strong deterrent for the Cloud Service Provider, and a great motivator to ensure that their infrastructure is robust and fit for purpose. Always insist on SLAs covering the continuous availability of a support team should you be affected by a serious downtime event.
What backup and disaster recovery services do you offer?
Technology breaks. Even in fault tolerant designs, failures which affect availability can occur (although rarely). There are also 'acts of God' – natural or man-caused disasters – which can cause extended downtime or even the destruction of your data. Your Cloud Service Provider should be able to offer you options which address even these types of disasters including backup or disaster recovery to geo-redundant Data Centres.

Armed with these questions you should be able to make a more informed choice, or at least narrow your list of Cloud Service Providers to satisfy your particular needs. If you would like to chat to us about Cloud hosting and our Cloud products then contact us on 087 470 0000 or email our sales team.