As businesses experience aging IT infrastructure and slowed performance, they are looking at alternatives to on-premise computing and are considering the move to cloud computing more than ever before. As a Managed Service Provider (MSP), facilitating this move affords you the opportunity to maintain relationships and add significantly more value to your clients.
While the move to cloud computing and Virtual Data Centres (VDC) might affect the way IT Solutions and MSP's trade with end customers, there are definite benefits to both parties in maintaining their relationship.

Traditionally customers that rely on MSP support (customers that outsource their IT needs) procure computing hardware with capital expenditure (capex) investment and require support for the environment from the provider involved. Going forward however, cloud VDC may change the way IT Solutions and MSP's engage with their customers.
A common misconception is that the cloud eliminates sales and profit margins,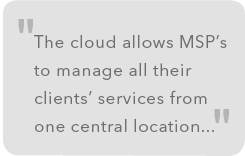 thus making support difficult, because customers procure direct and remove the MSP from the equation. However, the real value to MSP's is the opportunity to facilitate the move and provide services and applications, along with VDC compute resources on an operating expense (opex) model. This boils down to having the complete bundle as a service offering, essentially adding value at both ends.
The move to cloud VDC will still require managed services, however these services will have a different slant about them and enable far more innovation and flexibility. The cloud allows MSP's to manage all their clients' services from one central location within a console enabled control panel, enabling them to offer fast and effective support, 24/7.
Here is a closer look at some of the benefits of a Virtual Data Centre:
Business Enablement
Both from the MSP and customer's perspective, there are real benefits when leveraging the power of VDC. From the MSP's perspective, firstly and most importantly, is the ability to subscribe to 'raw' VDC compute and storage, and build tangible products and services as required by the customer. These can be delivered on a managed service model with monthly opex billing. This is beneficial for both the MSP and customer.
Compute (vCPU + RAM) and storage is provisioned and billed only as needed, which means no costly 'over-provisioning' of resources required to support future applications and increased utilisation requirements. This is beneficial for the end customer because they only pay for current requirements and procure additional resources as the environment grows. Similarly, the MSP benefits from economies of scale because the more resources purchased (for resale) the better the pricing. Enabling them to offer the customer fair market related pricing and meaningful support.

We have seen MSP's really thinking out the box by offering innovative services that add real value to the end customer, such as taking the business applications and back-office systems that they already support, and moving them into the VDC. This becomes a full turn-key service offering, including application support, system administration and infrastructure (within the VDC) planning and management. The end customer loves it because they are in an agile, high performance environment, which is inherently highly available, and no longer burdened with the concerns associated with onsite hardware. The MSP loves it because they still benefit from the economics of the environment provisioned within the VDC, support becomes a breeze and additional opportunities open up to add further value.
Outsourced Infrastructure
In a traditional computing environment, the on-site hardware has inherent flaws, for example there can be single points of failure, aging IT infrastructure and performance issues with high operational costs. Outsourcing the infrastructure component to VDC's eliminates these flaws and opens up additional opportunity for both the MSP and the customer.

Industry focus
Many MSP's focus on specific industry verticals and specialise in the technologies associated with them. This is an advantage to businesses within those sectors that utilise these specialised MSP's for obvious reasons. The move to the cloud for these businesses can be a lot safer and seamless when using specialised MSP's to facilitate the move.
Data sovereignty
Utilising RSAWEB's VDC, where data resides locally within South Africa's boarders, takes care of data sovereignty concerns as well as concerns around other regulations such as the Protection of Personal Information Act (PoPI).
DRaaS and Backup
Disaster Recovery as a Service (DRaaS) and back-ups are necessary services that are often neglected due to lack of resources or ownership of the responsibility, especially within the small and medium-sized enterprise space. MSP's can easily facilitate these services efficiently, with due diligence and include them in their product set. DRaaS and BackUp are seamless and easy to use add-on products to RSAWEB's VDC.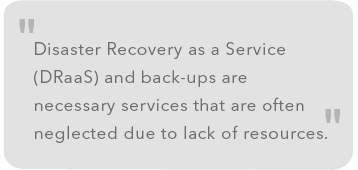 Remote support
When supporting servers and applications provisioned within a VDC environment remotely, the experience is far better because connectivity at the Data Centre has far more capacity and the environment is always on.
Own your own Virtual Data Centre
VDC's essentially allow both the end customer and the MSP to own their own Virtual Data Centre. From the MSP's perspective, subscribing to a VDC means having access to resources on tap to provision services for customers requiring a heavy duty, high performance cloud environment as and when required, without the large upfront investment on infrastructure. The end customer benefits from the flexibility, scalability, guaranteed performance and reliability of being in a VDC with all the required support from the MSP.

For more information on any of the RSAWEB products you can contact us on 087 470 0000 or email us at [email protected]