The potential of the Internet of Things is enormous and its full potential is still being discovered by companies every day.
Internet of Things (IoT) is a name for a system of devices that communicate with each other and feedback data on certain indicators and measurements. They are also called machine-to-machine (M2M) connections as they connect 'things' together and allow them to talk to each other. Current examples of the IoT are familiar technologies such as sensors, networking and Cloud computing, with new possibilities being discovered on a daily basis.
There are already estimated to be over a billion connected devices working with IoT worldwide. IoT has the potential to revolutionise how we work and live and many companies are asking how they might develop IoT into their business and processes. The potential is huge and it is predicted that by 2025 the companies with IoT technologies could be up to 10% more profitable than those without. One thing is for sure, if you don't already have an IoT strategy, you should.
How can Internet of Things help your business?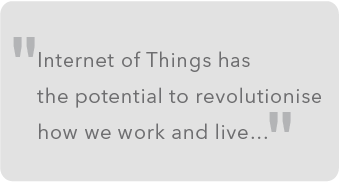 With IoT systems the machine-to-machine (M2M) technology is usually enabled by secure network connectivity and Cloud infrastructure. Combined, these M2M devices communicate, compile, store and transform data. The data is then analysed and interpreted into meaningful and useful information that can be used by people or businesses.
The ways in which IoT solutions can help businesses are manifold, but they usually result in increasing revenue, improving efficiency and finding new ways of doing things, such as being able to improve worker safety, protect assets and enable companies to better meet regulatory requirements.
More informed decisions
By analysing the data collected from the IoT devices companies can make more informed decisions and better control their systems. The ability to make informed decisions more quickly means increased operational functionality and efficiency and this increase in real time business intelligence provides meaningful business insights, giving companies an increased competitive advantage.

Here are just two examples of industries where IoT is revolutionising business performance:
Monitoring energy consumption
Energy management will become increasingly critical as the demand and cost of energy increases. Identifying ways to become more energy efficient through smart IoT monitoring is highly beneficial to companies.
Some ways in which IoT can be used to assist with and monitor energy consumption include automated start-up and shut-down of equipment and the use of sensors monitoring the energy outputs of various components. Remote monitoring can also detect problems more quickly and decrease the need for costly inspections or constant monitoring by personnel.  In the future accounting for, storing and moving energy around grids also becomes easier when IoT systems are in place.
Manufacturing and Fleet Management
IoT can add value to most businesses in the manufacturing sector regardless of their size or the products they produce. In fact, Verizon has noted a more than 200% increase in adoption of IoT year-on-year in this sector, as IoT services are able to streamline processes and increase efficiency.  To read more click here.
IoT technologies can assist in monitoring inventory, equipment and sites. This is beneficial not only in tracking assets but also for security, cold management, building control and maintenance monitoring.

These are just two industries where innovation is happening but IoT innovations are being implemented in many other industries as well including healthcare, transport, insurance and retail. As IoT continues to disrupt business and transform our lives it will be fundamentally important for businesses to adapt to these new technologies in order to stay ahead of the curve.