In today's fast-paced world it is important that businesses remain on top of their expenses and try to find the most cost-effective solutions to everyday required services. One of the ways one can save costs in a business is by choosing a less expensive Internet service. The need to reduce costs has resulted in suppliers providing businesses with two different options in terms of types of Internet service; "best-effort" and "dedicated" Internet services.
The first detail you should know is that most consumer-level Internet service plans are best-effort plans. It is therefore very important that you know the difference between the two as this information can save you a lot of time and aggravation.



What is a best-effort Internet service?
A best-effort service refers to an Internet delivery service where the provider does not give any guarantees on when the data will be delivered or the quality of that data when it is delivered. In a best-effort network all the users on the network are given a best-effort service, meaning that they are given an unspecified bit rate and delivery time and this will fluctuate depending on how many users are on the network at a particular time. If only two people are using the network it will be a lot faster than if 50 employees are using the network.
For example; let's say you live in a street with 50 houses with a single entry and exit road, and everyone decides to leave for work at the same time – how long do you think it will take all 50 households to get out of the street? The same concept applies to 50 users using the same Internet exchange when on a best-effort service.
For most consumers, a best-effort Internet plan is the ideal option as there are many solutions to choose between from various suppliers and they fulfil all, or most, of the consumer's needs, enabling them to check email, watch YouTube and play online games.
What is a dedicated Internet service?
Many of our clients make the mistake of confusing a 'best-effort' service with a dedicated Internet service. A dedicated, or "reliable delivery", service provides a constant level of service to all users on the network, regardless of the number of users or how much effort is required from the network.
Using a dedicated Internet line such as fibre, or even licensed microwave, will allow you to get a direct connection from the service provider to your premises which is dedicated to you. This will eliminate the 'many neighbours' scenario and will guarantee you a constant, fast Internet connection.
Cheaper but not necessarily cost-effective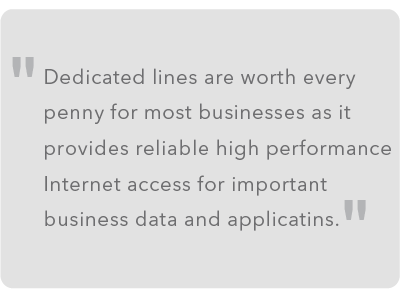 While best-effort services are often cheaper, they are not necessarily the best solution for all businesses. Having a best-effort service where you share your connection with multiple users could lead to your speeds fluctuating at certain times of the day and can often result in a reduction in staff productivity due to slow Internet speeds. To many businesses a slowing down of the Internet and a reduction of the outputs from their staff can be disastrous to productivity if experienced on a regular basis.
Large companies that rely heavily on the Internet need something better than a best-effort service and, while it may not necessarily be the most affordable option, it will certainly be the most 'business-savvy' choice for large enterprises. Dedicated lines are worth every penny for most businesses as it provides reliable high performance Internet access for important business data and applications.
If you would like to know more about the types of Internet services we provide contact us on 087 470 0000 or email our sales team.